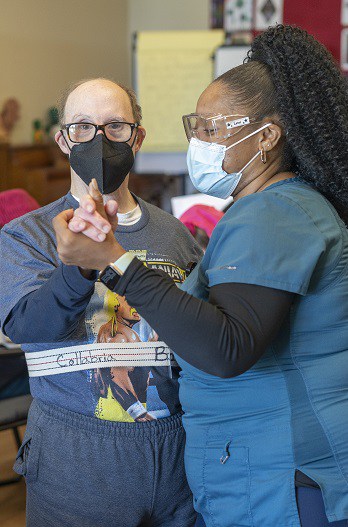 "Our brother, Mark, was born with Down Syndrome, but we never looked at him as special…
Mom never would have allowed that. He was our sweet, people-loving brother—who was part of everything we did," shares his sister, Kathy.
Dear Friends,
When Kathy and Mary's brother Mark was diagnosed with Alzheimer's disease, they were heartbroken. The sweetest and most outgoing man you'd ever met was changing and quickly needed more help than his sisters could provide.
And that's why I'm writing to you.
Local families need your help right now.
Ever since their parents passed away, Kathy and her sister Mary have lovingly cared for Mark. But in 2019, he was officially diagnosed with Alzheimer's. They had hoped to keep Mark at home, but as his needs became more complex, his sisters realized they couldn't do it alone.
Thankfully, Kathy and Mary began attending a Collabria Care (now Providence Adult Day Health) Caregiver Support Group, for those caring for a loved one with Alzheimer's, and discovered that there were other people with Down Syndrome and Alzheimer's attending our Day Program.
Unfortunately, during the COVID lockdowns, Kathy and Mary saw Mark's mental health decline. They began to fear that they were losing the brother they loved so much.
That was until Mark was able to attend the Day Program. "All it took was one day at the program and the loving 'Marky-Mark' look was back in his eyes. He was happy again—it was truly that dramatic!"
As the Alzheimer's Resource Center for Napa County we are able to provide specialized, person-centered care which includes care for those with both Down Syndrome and Alzheimer's, but we can't do it without you!
I hope you will consider making a heartfelt donation right now.
I deeply appreciate your generosity for those in need. Every dollar you donate means so much. Please give as generously as you can.
With my sincere thanks and gratitude,
Celine Regalia
Executive Director
P.S. You can make an important difference through this one, simple act—the heartfelt donation you make right now.
P.P.S. Please go to alzheimersnv.org/mark to make your gift online.